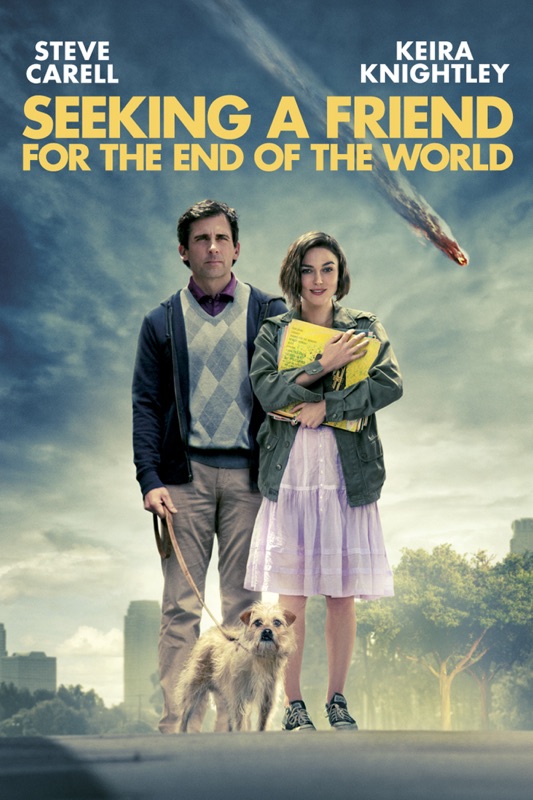 Seeking a Friend for the End of the World
Lorene Scafaria
Genre: Comedy
Release Date: 2012-06-22
Explicitness: notExplicit
Country: USA
Track Count:
USD 9.99 On itunes
Reviews
The One I Love

By D3N1ZEN

Rapturous, secular and silly. An absurd ode to loss and futility. Love never looked liked less, or more than at the end of the world.

Keira is once again a princess

By 18holliday92

Keira Knightley is a good reason to watch a movie. She simply makes any movie better. Her delivery is simply delightful and sexy in a subtle way. She is wonderful again in this movie, which is good for what it is. Some parts are confusing and unnecessary, but all in all, I liked it a lot. I will watch again sometime to see her. The end is sad, but knowing it's coming since the first minute makes it easier to take.

AMAZING

By cheriezie

This is the most underrated movie and it gets better every time I watch it. LOVE it so much!!

Cool premise, horrible movie

By Neil Frazer

I was looking forward to this movie for a while do to the interesting plot idea, however the movie was lackluster, and just all around horrible. Not for families, not for kids, not for people who like Steve Carol movies.

Beautiful

By JDL76

I think that the sequence while the Hollies are playing might be one of the greatest scenes in movie history.

read this review of mine if you have even a slight interest in this movie

By Xxxxx hater girl Xxxxx

I personally loved this. Maybe giving it 5 starts has a bit to do with the fact that its about 2 am, but maybe tomorrow my opinion won't change. I think steve carrel and kiera knightley played their characters extremely well. This movie is very realistic yet has that bit of hope that is rarely seen on an everyday basis. I think the people giving this movie a bad review dont understand why its good. The love the two main characters have is the best. It was my definition of true love. Wanting nothing more than to be with that person and wanting time to stop just to have another second together. I recommend not reading any reviews that have less than 4 stars and to watch this movie at 2 am. :)

Movie

By Givenchylouis

Amazing movie 👌🏻

Wow.

By uruzone

I didn't really know what to expect out of this, as I had heard both good and bad about it. Aside from the very strong performances — even in the first scene, Steve Carell is setting a subtly serious tone for the film — the material itself represents an excellent mix of humor and melancholy. The characters in this film often switch back and forth between anxiety, anger, depression and of course, acceptance, just as most people faced with a life-altering event do. Accordingly, I think the pacing of the film, which other reviewers have complained about, was instead spot-on with regards to human nature. When faced with immense tragedy, who's to say what is the right or wrong way to react? Why shouldn't we be scared to death one moment and laughing the next? For days afterward, I thought about this film. But it wasn't until I came across Roger Ebert's review of "Seeking" that I finally understood what I was feeling. He managed to find the right words: "The best parts of this sweet film involve the middle stretches, when time, however limited, reaches ahead, and the characters do what they can to prevail in the face of calamity. How can I complain that they don't entirely succeed? Isn't the dilemma of the plot the essential dilemma of life?"

Don't waste your time

By Seeking a friend

The plot is dull and there is absolutely no chemistry between the two main characters. One of the worst films I've ever seen.

Unrated end of the world love story

By Storybookheroine

Quirky and usual. I love so many things about this film. I do wish the leads seemed to be a more natural fit but it works out somehow. I love the monologue about records, mudslides at Friendly's, the beach and just the wonderful script. Even the end is remarkable and written so naturally.