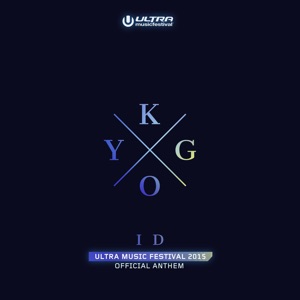 ID (Ultra Music Festival Anthem) - Single
Kygo
Genre: Dance
Release Date: 2015-07-30
Explicitness: notExplicit
Country: USA
Track Count: 1
℗ 2015 Kygo under exclusive license to Sony Music Enterntainment Ltd / Ultra Records, LLC
USD 1.29 On itunes
Reviews
Great music

By Colin man555

First let my say thank you this song is truly the best. It is creative fun and motivational. Keep doing what you doing cuz this is awsome!!!!!

Dancer

By Missyisme

Perfect for my choreography!

Nice beat

By That~other~guy

This song got a nice beat to it

mesmerizing...

By trance/groove junkie

beautiful….

Beautiful

By louasha

I love kygo. Never knew the name of this song!!

ONE OF THE BEST SONGS EVER!!!

By Anonymousrules12

LOVE IT!!! the intro is pretty cause it uses mallets, steel drums, and island percussion. this song is unique and creative. it is mainly tropical music and reggae, but it mixes edm and deep house too. drop is beautiful. i love the melody and the marimba sound he uses. must buy if you are a sucker for edm and tropical music like me

This song is amazing 😍😍

By Muffmaroo

I usually don't listen to this kind of music but I'm in love with this song!!

Great song

By iAbdo45

discovered by Music just an amazing instrumental song

What else (other than 5 stars) can I say?

By J. Moses Boone

This song is good enough instrumentally, perfect background music for any Electronic or Dance song to have lyrics,

Five Star

By Jose_ist_Verrückt

I absolutely Love this song!
Videos from this artist
Albums from this artist
Cloud Nine

Kygo

Kids in Love

Kygo

Kids in Love (Re-release)

Kygo

Remind Me to Forget (Remixes) - EP

Kygo & Miguel

Coming Over (feat. James Hersey) [Remixes] - EP

Dillon Francis & Kygo

Kids in Love (Remixes)

Kygo

Epsilon - Single

Kygo

ID (Ultra Music Festival Anthem) - Single

Kygo

Here for You (feat. Ella Henderson) - Single

Kygo

First Time - Single

Kygo & Ellie Goulding

First Time (Remixes) - Single

Kygo & Ellie Goulding

Stargazing - Single

Kygo

Kids in Love (feat. The Night Game) - Single

Kygo

Never Let You Go (feat. John Newman) - Single

Kygo

Sunrise (feat. Jason Walker) - Single

Kygo

Riding Shotgun (feat. Bonnie McKee) - Single

Kygo & Oliver Nelson

Stranger Things (feat. OneRepublic) - Single

Kygo

With You (feat. Wrabel) - Single

Kygo

Permanent (feat. JHart) - Single

Kygo

I See You (feat. Billy Raffoul) - Single

Kygo

Stargazing (feat. Justin Jesso) [Kaskade Remix] - Single

Kygo

Stargazing (feat. Justin Jesso & Bergen Philharmonic Orchestra) [Orchestral Version] - Single

Kygo

Remind Me to Forget - Single

Kygo & Miguel

Kids in Love (Don Diablo Remix) - Single

Kygo, The Night Game & Don Diablo

Born to Be Yours - Single

Kygo & Imagine Dragons

Happy Now (feat. Sandro Cavazza) - Single

Kygo

It Ain't Me - Single

Kygo & Selena Gomez

Happy Now (R3hab Remix) - Single

Kygo & Sandro Cavazza

Think About You (feat. Valerie Broussard) - Single

Kygo

Think About You (feat. Valerie Broussard) [Galantis Remix] - Single

Kygo

Carry On (From "POKÉMON Detective Pikachu") - Single

Kygo & Rita Ora