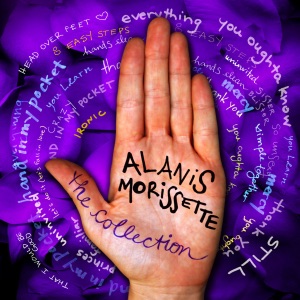 Alanis Morissette
Genre: Alternative
Release Date: 2005-11-14
Explicitness: explicit
Country: USA
Track Count: 19
℗ 2005 Maverick Recording Company. Marketed by Rhino Entertainment Company, a Warner Music Group Company. All Rights Reserved.
USD 11.99 On itunes
Reviews
Music video

By Franklinfan075

Artist: Alanis Morissette Music video: Thank You Year: 1998 Description: The singer can be seen fully nude, with her hair covering her breasts.
Videos from this artist
Albums from this artist
Smiling (feat. Elizabeth Stanley) [Bil Bless Remix] - Single

Alanis Morissette & The Original Broadway Cast of Jagged Little Pill

Smiling - Single

Alanis Morissette, Elizabeth Stanley & The Original Broadway Cast of Jagged Little Pill

Jagged Little Pill (25th Anniversary Deluxe Edition)

Alanis Morissette

Havoc and Bright Lights

Alanis Morissette

Smiling (F9 Remix) - Single

F9 & Alanis Morissette

Such Pretty Forks in the Road

Alanis Morissette

Reasons I Drink - Single

Alanis Morissette

Live At Montreux 2012

Alanis Morissette

Snow Angel (feat. Alanis Morissette) - Single

Souleye

The Collection

Alanis Morissette

So-Called Chaos

Alanis Morissette

Flavors of Entanglement

Alanis Morissette

Unplugged (Live)

Alanis Morissette

Feast on Scraps

Alanis Morissette

Supposed Former Infatuation Junkie

Alanis Morissette

Under Rug Swept

Alanis Morissette

Jagged Little Pill (Acoustic)

Alanis Morissette

Jagged Little Pill (Remastered)

Alanis Morissette