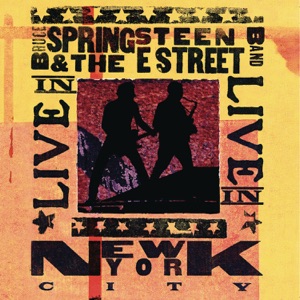 Bruce Springsteen
Genre: Rock
Release Date: 2001-03-27
Explicitness: notExplicit
Country: USA
Track Count: 20
℗ 2001 Bruce Springsteen
USD 14.99 On itunes
Reviews
IS THERE ANYBODY ALIVE OUT THERE?

By SoTexJersey

Bruce and the E Street Band at their reunited best. Like the MTV "Plugged" album/cd or whatever these things are called now, I only wish this release would've been the entire show.

Youngstown

By bigfan61

Amazing how the words in this song apply today...genius of Bruce's work is that its specific to the time, but timeless at the same time. Gives me chills every time i listen...

...is Reason to Buy This Music

By If I Should Fall Behind

Enough said...

Contented Sigh

By palmsunited

UHHHHH...Bruce where whould we be without you

The greatest live album

By Thebruceman

So much fun. Light of day, which is something i dont see on the list, is amazing. Long Live the Boss.

Great CD

By Jerminator4

Its hard to duplicate a live show from the Boss, but this is good.

missing a song who cares?!?!?!

By jdhjf

i cant say i really miss the 16 minute interminable tenth avenue freeze out the other live one is much much better

A Great Album from Bruce

By 41racing

I love the album. I own the DVD edition of it, it is one of his best performances. However, I would apprecciate being able to buy the whole album at once. No more partial albums

Bear Witness

By ARARAR

When this band stops creating music, and someday it will happen, this will remind us of what it was like to go to a "rock and roll exorcism." My son, at 17, saw Bruce for the first time on this tour. He never knew what I got so excited about. He has seen him five times since. A must have along with the DVD.

No More Partials

By MJC7007

Great Cd ...ITUNES STOP THE PARTIALS OR EXPLIAN WHY?
Videos from this artist
Albums from this artist
Greatest Hits

Bruce Springsteen

Born In the U.S.A.

Bruce Springsteen

Born To Run

Bruce Springsteen

Wrecking Ball

Bruce Springsteen

Working On a Dream

Bruce Springsteen

The River

Bruce Springsteen

Nebraska

Bruce Springsteen

Darkness on the Edge of Town

Bruce Springsteen

High Hopes

Bruce Springsteen

The Rising

Bruce Springsteen

Letter To You

Bruce Springsteen

The Wild, The Innocent & the E Street Shuffle

Bruce Springsteen

Western Stars

Bruce Springsteen

Greetings from Asbury Park, N.J.

Bruce Springsteen

Bruce Springsteen & the E Street Band Live 1975-85

Bruce Springsteen

Tunnel of Love

Bruce Springsteen

Live In Dublin

Bruce Springsteen with the Sessions Band

The Promise

Bruce Springsteen

The Ghost of Tom Joad

Bruce Springsteen

We Shall Overcome: The Seeger Sessions (American Land Edition)

Bruce Springsteen

Hammersmith Odeon, London '75

Bruce Springsteen

Springsteen on Broadway

Bruce Springsteen

Wrecking Ball

Bruce Springsteen

Live in New York City

Bruce Springsteen

American Beauty - EP

Bruce Springsteen

Chimes of Freedom (Live) - EP

Bruce Springsteen

The Essential Bruce Springsteen

Bruce Springsteen

Lucky Town

Bruce Springsteen

In Concert/MTV Plugged (Live)

Bruce Springsteen

Chapter and Verse

Bruce Springsteen

Human Touch

Bruce Springsteen

Devils & Dust

Bruce Springsteen

Western Stars - Songs From the Film

Bruce Springsteen

Blood Brothers - EP

Bruce Springsteen

Blinded by the Light (Original Motion Picture Soundtrack)

Various Artists

Magic Tour Highlights - EP

Bruce Springsteen

Magic

Bruce Springsteen

The Essential Bruce Springsteen (Bonus Tracks)

Bruce Springsteen