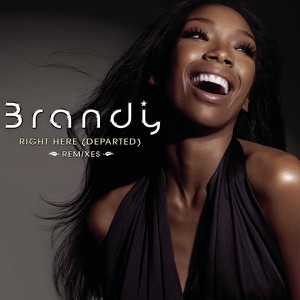 Right Here (Departed) [Remixes]
Brandy
Genre: Dance
Release Date: 2009-01-27
Explicitness: notExplicit
Country: USA
Track Count: 7
℗ 2008 Sony Music Entertainment
USD 4.99 On itunes
Tracks
| | | Title | Time | |
| --- | --- | --- | --- | --- |
| 1 | | Right Here (Departed) [Moto Bl | 6:52 | USD 1.29 |
| 2 | | Right Here (Departed) [Seamus | 8:53 | USD 1.29 |
| 3 | | Right Here (Departed) [Mad Dec | 4:35 | USD 1.29 |
| 4 | | Right Here (Departed) [Moto Bl | 3:34 | USD 1.29 |
| 5 | | Right Here (Departed) [Seamus | 4:08 | USD 1.29 |
| 6 | | Right Here (Departed) [Moto Bl | 7:01 | USD 1.29 |
| 7 | | Right Here (Departed) [Seamus | 7:08 | USD 1.29 |
Reviews
Nice Selection

By nmdeal

Nice Selection

Great

By Girliciouz

Surprisingly good vocals. A must have if you love pop music. Trust Me!

great song, great remixes

By La Musiqe

Usually, I don't like these remixers, but you can't help but love what they did to Right Here. Go Brandy! I finally appreciate you!

Moto Blanco Mix - one of the best mixes

By oatmealsquarez

I love the Moto Blanco remix. Just perfect for the song.

Awesome!

By miguelito d

These remixes are smoking hot! If you only get one you HAVE to get the Mad Decent Max Mix!

The Wide-Eyed Beauty Named Brandy Is BACK!!!!

By Remix Enthusiast

I've heard very little from this wonderful songstress in quite a while. This is a really nice song. In my opinion, the Seamus Haji & Paul Emanuel Club Mix compliments the mood and the voice of this song quite well.

1000% Beautiful!!!!!!

By C-ROCKA

Music that makes you feel good inside and music that makes you want to get up and dance! It stimulates the mind, body and soul. Brandy is back? SHE NEVER LEFT! I love you Bran Bran!!!!!

***Awsome remix I luv it ***

By 808 Jr. Boie

Brandy has come back again so all you Old School Artist Lovers out there this remix of departed is woth the down load.

Remixes that hit the spot!

By Nurse_Amy

As a person who listens to a song I love over and over again, remixes are a great way to keep enjoying the same song without getting sick of it. These are all really powerful remixes that hit the spot!

brandy.brandy.brandy.

By ♥SerenityJL0VE

wow ! this is an awesome album ! right here is officially my favorite song . so thanks for making music such an awesome thing in life ! <3 tootsieroll .
Videos from this artist
Albums from this artist
Magic (feat. Nile Rodgers & Brandy) [Remixes]

Mystery Skulls

B7

Brandy

Baby Mama (feat. Chance the Rapper) - Single

Brandy

Right On Time (feat. Designer Doubt, Brandy & Flo Rida) - Single

Ray J

Freedom Rings - Single

Brandy

Even More (feat. Brandy) - Single

MAJOR.

Love Again - Single

Brandy & Daniel Caesar

Only God Knows (feat. Queen Latifah & Brandy) [From "Star" Season 3] - Single

Star Cast

Family Affair (feat. Patti LaBelle, Brandy, Queen Latifah, Ryan Destiny, Brittany O'Grady & Miss Lawrence) [From "Star" Season 3] - Single

Star Cast

Into My Eyes (feat. Brandy) - Single

Stacy Francis

All I Need (feat. Brandy) [From "Star" Season 3] - Single

Star Cast

Spotlight (feat. Queen Latifah & Brandy) [From "Star" Season 3] - Single

Star Cast

I Could Be Wrong (Club Mix) - Single

Lucas & Steve & Brandy

I Could Be Wrong (Club Radio Mix) - Single

Lucas & Steve & Brandy

I Could Be Wrong - Single

Lucas & Steve & Brandy

Ohhh Lord (From "Star" Season 2) [feat. Queen Latifah, Patti LaBelle & Brandy] - Single

Star Cast

Beggin & Pleadin - Single

Brandy

Not the One (feat. Brandy) - Single

Fats

The Girl Is Mine (feat. Destiny's Child & Brandy) [Remixes] - EP

99 Souls