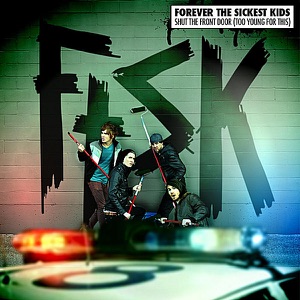 Shut the Front Door (Too Young for This) - Single
Forever the Sickest Kids
Genre: Rock
Release Date: 2011-10-28
Explicitness: notExplicit
Country: USA
Track Count: 1
℗ 2011 Forever The Sickest Kids, LLC
USD 0.99 On itunes
Reviews
I feel like

By mattbastard

You guys had way more talent in television off party on and underdog alma mater. Still not bad but I hope for stuff that sounds more like the older Ftsk

Forever in love with ftsk

By Truly Amazing <333

i love forever the sickest kids.. nd the release of this song almost made be pass out lol!! thats how excited i was.. by the time the song ended i was playing it on repeat, and practically hyperventalating the whole time:P truly the best band ever and they couldnt be any better<3333

Drums

By Gama1151

This song is pretty good.The only thing that I do not like about this song is the drums.I'm a drummer and the different up beat beats that this band produces makes me want to listen.In this song though...it seems like the drums are muffled.Other than that it's a good song:) Go FTSK!!!

<3

By irule6

Everyone go buy this song! Its the best song ever and the best band ever and you won't regret it!!! :)

FTSKforlife

By HUNTER LOHR

Great band, great song,it's as simple as that! Keep up the good work guys!

Awesome

By kkainb

Okay, umm, AWESOME!!! As if sumthin by them culd be dissapointing!!

Amazing

By OrangeSunny

Like anything by them. And first review whoo! Thanks tumblr.

Great song!!!!

By Alexbowman007

This song is great!!!

<3

By krey0088

Amazing!

Pretty solid song

By KBrnnr

Pretty solid song. Not their best but great song to jam out to!!
Videos from this artist
Albums from this artist
Underdog Alma Mater

Forever the Sickest Kids

Forever the Sickest Kids

Forever the Sickest Kids

The Weekend: Friday

Forever the Sickest Kids

J.A.C.K.

Forever the Sickest Kids

Underdog Alma Mater

Forever the Sickest Kids

Forever the Sickest Kids

Forever the Sickest Kids

The Weekend: Friday

Forever the Sickest Kids

Shut the Front Door (Too Young for This) - Single

Forever the Sickest Kids

Mistletoe is for Quitters - Single

Forever the Sickest Kids