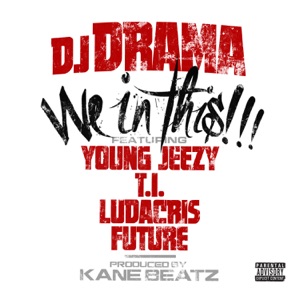 We In This (feat. Young Jeezy, T.I., Ludacris & Future) - Single
DJ Drama
Genre: Hip-Hop/Rap
Release Date: 2012-02-29
Explicitness: explicit
Country: USA
Track Count: 1
℗ 2012 Entertainment One U.S., LP
USD 1.29 On itunes
Reviews
Ok

By Kawthoolei

No

not bad

By ramoS 808

Not bad track, but drakes version is better

Amaing beat

By Michael Dean

Futures hook is eh, and ludas verse is decent. Jeezy and T.I love em

CLASSIC!!!!!!!!!!!!!!!!!!!!

By i am music 20

BOOOOOOOY!!!!! YOU CANT GET NO BETTER, YOU YOUNGER CATS MAY HAVE WANTED WAYNE DRAKE WHOEVER ON HERE BUT NAH THIS A SONG FOR THE VETS THE GREAT ONES THE ONLY THING WOULD HAVE MADE IT BETTER WOULD HAVE BEEN PUTTING ANDRE 3000 ON IT. 2THUMBSUP!

Great song but...

By Weezy12345

Please get the version with drizzy itunes!!!!!!!!!!!!!!!!!!!!!!!!!!!!!!!!

go hard af

By Ayookj

song to sick!

Luv it!!

By Lorluv412

This beat is sooo cold I love this song all together one a my favs a dramas and ain't no way around it heard em both on pandora then downloaded em keep lovin tha music err body an voicing opinions, much love- one

MaRRLLy

By RealMaRRLLy

Love Jeezy's music…like T.I. Like Luda…not really a fan of Future

GREAT!!!!!

By morency5

this song is amazing luda kills it

Awesome!

By DJ_Rhett

Great song! They need to put the remix with Drake on here now!
Videos from this artist
Albums from this artist
Quality Street Music

DJ Drama

Third Power (Deluxe Edition)

DJ Drama

Gangsta Grillz: The Album

DJ Drama

Quality Street Music 2

DJ Drama

Gangsta Grillz: The Album, Vol. 2

DJ Drama

Gangsta Grillz: The Album, Vol. 2

DJ Drama

Gangsta Grillz: Silent Assassin (Hosted By DJ Drama)

Dorrough Music

Quality Street Music

DJ Drama

Chicagorilla (Gangsta Grillz Extra)

Bump J & DJ Drama

The Legend Series - Gangsta Grillz

Bun B & DJ Drama

Hood Generals

B&G & DJ Drama

Dreamchasers

DJ Drama

Gangsta Grillz: The Album

DJ Drama

Gangsta Grillz - Legend Series Vol 2

8Ball & MJG & DJ Drama

Star Studded Gangsta Grillz

DJ Drama & Gemstar

Da Neighborhood Dopeman Mixtape

Criminal Manne & DJ Drama

Can't Ban the Snowman (Clean)

DJ Drama & Jeezy

The Leak

DJ Drama & T.I.

Superfly

Masspike Miles & DJ Drama

Quality Street Music 2

DJ Drama

Its tha World

DJ Drama

Hood Generals

B.G. & DJ Drama

The Hustler's Guide to the Game - Gangsta Grillz Special Edition

David Banner & DJ Drama

Screwed In the Grillz, Vol. 1

DJ Drama

Boss Basics (Gangsta Grillz Special Edition)

Slim Thug & DJ Drama

Welcome To Saigon

Saigon & DJ Drama

Locke High (Bigg Snoop Dogg & DJ Drama Present Terrace Martin)

Terrace Martin, Snoop Dogg & DJ Drama

#Frn2 Gangsta Grillz

Too Klean & DJ Drama

Chicagorilla - Gangsta Grillz Extra

DJ Drama & Bump J

Come See What I See

Smitty & DJ Drama

Oh My (feat. Fabolous, Wiz Khalifa & Roscoe Dash) - Single

DJ Drama

Oh My (feat. Fabolous, Roscoe Dash & Wiz Khalifa) - Single

DJ Drama

Oh My (Remix) [feat. Trey Songz, 2 Chainz & Big Sean] - Single

DJ Drama

Oh My (Remix) [feat. Trey Songz, 2 Chainz & Big Sean] - Single

DJ Drama

Ain't No Way Around It (Remix) [feat. Future, Big Boi & Young Jeezy) - Single

DJ Drama

Ain't No Way Around It (Remix) [feat. Future, Big Boi & Young Jeezy] - Single

DJ Drama

We In This (feat. Young Jeezy, T.I., Ludacris & Future) - Single

DJ Drama

We In This (feat. Young Jeezy, T.I., Ludacris & Future) - Single

DJ Drama

My Moment (feat. 2 Chainz, Meek Mill & Jeremih) - Single

DJ Drama

My Moment (feat. 2 Chainz, Meek Mill & Jeremih) - Single

DJ Drama

We in This 1.5 (feat. Drake & Future) - Single

DJ Drama

We In This 1.5 (feat. Drake and Future) - Single

DJ Drama