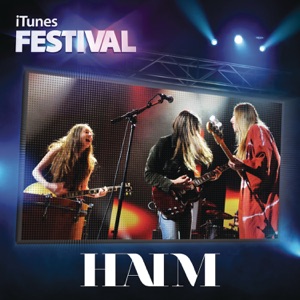 iTunes Festival: London 2012 - EP
HAIM
Genre: Alternative
Release Date: 2012-11-07
Explicitness: notExplicit
Country: USA
Track Count: 5
℗ 2012 Haim Productions Inc. under exclusive license to Columbia Records, a Division of Sony Music Entertainment
USD 4.99 On itunes
Reviews
Reviewxgyyeeeeees

By Majicsvette

We Lekzyaweiiiffde injuryuhuguidtgrtiiityifd su erreeeeerrdrrredok we ze really have eeeZR

haimhaimhaim haim!

By jangeldino

they're the bombdiggidy!

missing their best song

By Muno11

this is a really good collection of songs but it is missing the wire which is clearly their best song! otherwise...it's near perfect. they are refreshing and glad they have some success to continue to make music...5 stars add the wire!!!

Please buy this album. The live version is soooo much better!

By lachapina2

The live version is soooo much better. You can truly appreciate the talent of this girls in this album. It's the closest to seeing them live…which you have to experience at least once in your life! They're phenomenal!

amazing band

By el8301

I heard of Haim a few months back on an indie music website, but I'm glad to see that they're getting the recognition they deserve. The description of their music - Fleetwood Mac meets 90s r'n'b - is apt. Watching Danielle shred on the guitar and Este with her bass faces is absolutely epic. If you're looking for something that something that strays from the usual mainstream stuff, I'd definitely recommend Haim. "Go Slow" and "Honey and I" are definitely highlights. The former differs from the version on the Forever EP in that Este and Alana get to sing leads and the way it's slowed down gives a spine-tingling effect. My main complaint about this album is that they didn't include the live version of "The Wire."

Go Slow

By mkdreem

By far one of the best songs on the EP. Great band look forward to much more from them!

Amazing quality

By Park56

Authentic voice optimized for iTunes. Great music great value. More manly rock & roll sounding.

Saw this show by accident...

By johnny_nyc

at like 3am on iTunes and was very impressed. Have been playing this daily since then and haven't tired of it yet. This is a very different sound than the poppy ep. This is rock n' roll and these chicks can rock it out. I hope the full length studio release due early next year follows this direction. In any event this is a band worth seeing live and you could do worse for $4.99

end-credits montage

By mcdougalpuppy

I'm really starting to like this band. Their singles/eps that are out thus far really seem to evoke pool parties that I'd hit up in the late 80s. I know that's kinda a personal observation, but there you have it. Anyway, this itunes Festival album has a slightly different feel. Slightly less pool party, slightly more impassioned singing. Really looking forward to a full-length.
Videos from this artist
Albums from this artist
Little of Your Love (Remixes) - EP

HAIM

Women In Music Pt. III

HAIM

Walking Away (Mura Masa Remix) - Single

HAIM & Mura Masa