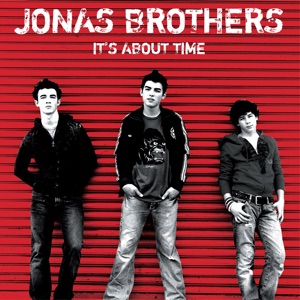 Jonas Brothers
Genre: Pop
Release Date: 2006-08-08
Explicitness: notExplicit
Country: USA
Track Count: 11
℗ 2006 Jonas Enterprises
USD 9.99 On itunes
Reviews
Bless You

By Mello Girl

Thank you, from the bottom of every fan '06-'13, and current supporters, for putting this on here. It means lot to us..

Thank you so much for this!!!

By brunobarretoflores

Best album ever, love the Jonas Brothers so much, thanks for this iTunes, love you!!! Must buy!!

YES!!!

By ATLFan1595

Bought a physical copy of this album back in 2006 and it's been one of my favs ever since. I'm glad that it's finally on iTunes so everyone can appreciate it.

Been waiting forever

By Will22121

Been waiting for years for this album to be on iTunes and finally it is

It's about time

By Loooooooooooooove yaaaaaaa

I been waiting for this to be on iTunes

Finally

By superVperson

I have looked for this album for years, and then I gave up. I just happened to looked up Jonas Brothers today, after obsessing over Nick's new song, and this is what pop's up! Thank you whoever did this!!

💕💕💕💕

By Jjjvbiuygvhg

I MISS MY BBS SO MUCH IM CRYING😪😪😪😪

Love it

By YeLLoW ShaDeS

I used to always hate the Jonas Brothers but as I listen to it now I realize that I actually love it now!!! LIKE WHY DID I USE TO HATE THEM!!!!! I LOVE THE SONG YEAR 3000

😭👏💕

By I_eat_carrots

Awwww memories

Throwback

By Lynn is JB's Biggest fan

I remember purchasing this album the day it came out. This brings me to tears listening to the snippets even though i have the cd literally 2 feet away from me. This band of brothers have changed my life and im so sad that they have decided not to make music together anymore but it was inevitable.
Videos from this artist
Albums from this artist
A Little Bit Longer

Jonas Brothers

Happiness Begins

Jonas Brothers

Lines, Vines and Trying Times

Jonas Brothers

Jonas Brothers: The 3D Concert Experience (Soundtrack)

Jonas Brothers

It's About Time

Jonas Brothers

Jonas Brothers

Jonas Brothers

Music from Chasing Happiness

Jonas Brothers

Jonas L.A.

Jonas Brothers