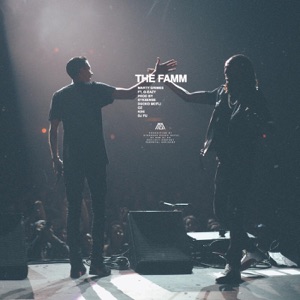 The Famm (feat. G-Eazy) - Single
Marty Grimes
Genre: Hip-Hop/Rap
Release Date: 2015-03-18
Explicitness: explicit
Country: USA
Track Count: 1
℗ 2015 Marty Grimes
USD 0.99 On itunes
Reviews
🔥🔥🔥🔥🔥

By Germanboy12

Had this song on repeat since I first heard it. G eazy murders his verse and Marty takes it home. Beat is nuts in this song.

Slodon is slow

By iadrian07

Straight fire.🔥🔥🔥🔥

Best song

By BiG17cat

Love this song I'm late, but G-Eazy songs are my fave now

Totally loveee

By Spongebob, The astronomer

God g-eazy is my faveee man I love this song 💘 soo get this song!!!!!

TheFamm

By SammyBennett

Love this so much. I do it for the fam!!
Albums from this artist
Rocket - Single

Marty Grimes

Mvp - Single

Marty Grimes

Good Music & Bad Decisions - Single

Marty Grimes

Scary Potter - EP

Très Mortimer, plumpy & Marty Grimes

Pieces - Single

Marty Grimes

I8 (feat. Marty Grimes) - Single

Steezy

Do the Right Thing (feat. Marty Grimes & Ymtk) - Single

ST Spittin & Max Perry

Pinky & the Brain - Single

Marty Grimes

Swim With the Sharks - Single

Très Mortimer & Marty Grimes

Could Be You (feat. FIIXD) - Single

Marty Grimes

Conceited - Single

Marty Grimes

Mr. Freeze - Single

Marty Grimes

Athlete - Single

Marty Grimes

White Kev 2 (feat. RickettoFromDaGhetto, Marty Grimes, Peso, Bess IV, Sterling Hayes, MANS, Maxo Pardo, Shy Riot & KINDACUL)

Très Mortimer & Brian Fresco

margiela moodring (feat. Marty Grimes) - Single

Cody Benjamin

Some Type (feat. Marty Grimes & Bptheofficial) - Single

Tree Thomas

Do the Most - Single

Marty Grimes

Living Fast (feat. BpTheOfficial & Marty Grimes) - Single

Guapely

On Road - Single

Marty Grimes

Martyjuana

Marty Grimes

All Good - Single

Marty Grimes

Rolling Stone (feat. Rexx Life Raj) - Single

Marty Grimes

On Fire - Single

Marty Grimes

How You Feelin' (feat. Dave Steezy) - Single

Marty Grimes

Animal (feat. Rexx Life Raj, Ymtk) - Single

Marty Grimes

On My Way - Single

Marty Grimes

With Me - Single

Marty Grimes

Faded (feat. Caleborate) - Single

Marty Grimes

101 - Single

Marty Grimes

Nobody Said It Was Easy

Marty Grimes

Vacation - Single

Marty Grimes

Never Content - Single

Marty Grimes

Say It Ain't So (feat. Rex Life Raj) - Single

Marty Grimes

Shut Up - Single

Marty Grimes

Still Floatin' - Single

Marty Grimes

See Me Now - Single

Marty Grimes

Through the Smoke

Marty Grimes

Mentions - Single

Marty Grimes

Recipe - Single

Bptheofficial & Marty Grimes