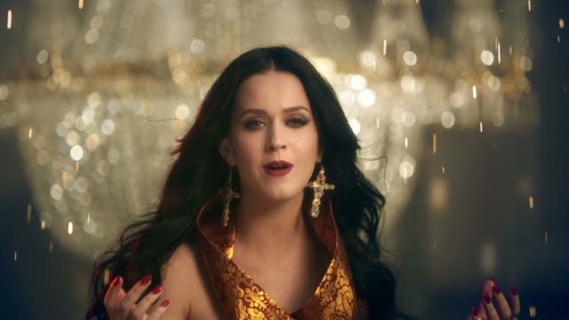 Katy Perry
Genre: Pop
Release Date: 2013-01-01
Explicitness: notExplicit
Country: USA
Track Count:
USD 1.99 On itunes
Reviews
Not showing in certain lists

By MacToirneach

I downloaded this epically awesome music video around the same time the music album was released. Then by the time I've gotten my phone upgraded to the iPhone XR, I noticed it seemed to have vanished from the "songs" and "downloads" list. Even after buying the music video a SECOND TIME, it's still not showing there. I'm guessing this may be more related to my purchase history in the iTunes Store getting lost track of due to corrupted data or something like that. It makes me wonder how much else might be missing.
Videos from this artist
Albums from this artist
Smile

Katy Perry

Smile

Katy Perry

Daisies (Acoustic) - Single

Katy Perry

Daisies (Oliver Heldens Remix) - Single

Katy Perry

Daisies (MK Remix) - Single

Katy Perry

Daisies - Single

Katy Perry

Never Worn White - Single

Katy Perry

Harleys In Hawaii (KANDY Remix) - Single

Katy Perry & KANDY

Harleys In Hawaii (Win and Woo Remix) - Single

Katy Perry & Win and Woo

Cozy Little Christmas - Single

Katy Perry

Small Talk (Sofi Tukker Remix) - Single

Katy Perry

Small Talk (White Panda Remix) - Single

Katy Perry

Small Talk (Lost Kings Remix) - Single

Katy Perry

Harleys in Hawaii - Single

Katy Perry

Small Talk - Single

Katy Perry

Never Really Over (Wow & Flutter Remix) - Single

Katy Perry

Never Really Over (R3HAB Remix) - Single

Katy Perry

Never Really Over (Syn Cole Remix) - Single

Katy Perry

Never Really Over - Single

Katy Perry

Con Calma (feat. Snow) [Remix] - Single

Daddy Yankee & Katy Perry

365 (Remixes) - EP

Zedd & Katy Perry

365 - Single

Zedd & Katy Perry

Dark Horse (feat. Juicy J) [Deluxe Single] - Single

Katy Perry

This Is How We Do (feat. Riff Raff) - Single

Katy Perry

Roar (Deluxe Single) - Single

Katy Perry

Bon Appétit (MUNA Remix) - Single

Katy Perry

Chained To the Rhythm (Hot Chip Remix) [feat. Skip Marley] - Single

Katy Perry

Rise - Single

Katy Perry

Bon Appétit (feat. Migos) [3LAU Remix] - Single

Katy Perry

Bon Appétit (feat. Migos) [Martin Jensen Remix] - Single

Katy Perry

Rise Remixes - Single

Katy Perry

Chained to the Rhythm (feat. Lil Yachty) - Single

Katy Perry

Chained to the Rhythm (feat. Lil Yachty) - Single

Katy Perry

Chained to the Rhythm (Oliver Heldens Remix) - Single

Katy Perry

Swish Swish (Cheat Codes Remix) - Single

Katy Perry

Birthday (Cash Cash Remix) - Single

Katy Perry

Swish Swish (Blonde Remix) - Single

Katy Perry