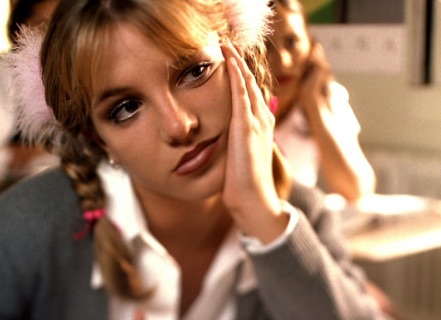 Britney Spears
Genre: Pop
Release Date: 2003-04-28
Explicitness: notExplicit
Country: USA
Track Count: 3
USD 1.99 On itunes
Reviews
Love this video

By Rainbow Cookieees

Please add the video , I was born to make you happy .

OMG!!!!

By BOXFISHHHH

She's soooo cute and lovely!!!!I bet u can't believe that u'll become the biggggg superstar at that time Britney!!!!!🤣🤣

Boring

By brussel sprout562

Lame

I Love It Britney!🖤

By Xbox GT - hunterhags

Your my fav artist and I'm 13 yrs old and I like to listen to If You Seek Amy, Toxic, And a Lot Of Your other songs! I miss these kinds of songs but I know you take care of your kids and that's the right thing to do I just kiss you. I'm sending love to your family with my prayers.😊

Love you brittney spears

By ukklkl

Love you brittney spears

Revolutionary

By A.23

I remember when I was 15 and seeing this video on mtv trl. And I knew that was a star in the rise. The most simple thing became Iconic.

Energetic quality

By Sorceress Mickey

This song has very energetic qualities even though it's a retro thing to listen to these days. 4 years ago at the end of September to the beginning of October, my parents really enjoyed hearing it when I added a song like this one to a playlist I made for iTunes which really does keep the 3 of us wide awake when we're travelling to the 2 theme parks located in Southern California by 🚗 . It's called "Energetic songs". I had Britney Spears' 1st song that she released on the debut album of the same name as part of the song I used to add into the playlist mentioned here. Britney Spears' 🎶 was always part of my generation which was preteen years. The truth is, my parents aren't teen pop fans. Rock on, Britney.

Britney Spears Rocks

By KbCheetah

This is a great video and Britney sings it great.

The days

By NegligentMonster

I remember watching this video premiere on MTV back when I was in high school and I instantly fell in love with her.

Incorrect year

By So it's Taylor again

This song is from 1999, not 2003.
Videos from this artist
Albums from this artist
...Baby One More Time

Britney Spears

Mood Ring (By Demand) [Remixes] - Single

Britney Spears

Glory

Britney Spears

Glory

Britney Spears

Toxic (Y2K & Alexander Lewis Remix) - Single

Britney Spears

S&M (Remix) [feat. Britney Spears] - Single

Rihanna featuring Britney Spears

Slumber Party (feat. Tinashe) [Remixes] - EP

Britney Spears

Glory (Deluxe Version)

Britney Spears

Glory (Deluxe Version)

Britney Spears

Make Me... (feat. G-Eazy) [The Remixes] - EP

Britney Spears

Tom's Diner (feat. Britney Spears) - Single

Giorgio Moroder

Pretty Girls - Single

Britney Spears & Iggy Azalea

Circus (Deluxe Version)

Britney Spears

Britney Jean (Deluxe Version)

Britney Spears

Britney Jean

Britney Spears

Circus (Twister Rave Remix) - Single

Britney Spears

The Essential Britney Spears

Britney Spears

Ooh La La (From "The Smurfs 2") - Single

Britney Spears

Femme Fatale (Deluxe Version)

Britney Spears

Till the World Ends (Twister Remix) - Single

Britney Spears

Blackout

Britney Spears

I'm a Slave 4 U - Single

Britney Spears

Criminal (Remixes) - EP

Britney Spears

B In the Mix - The Remixes, Vol. 2

Britney Spears

I Wanna Go (Remixes)

Britney Spears

Till the World Ends (The Femme Fatale Four Pack) - Single

Britney Spears

Till the World Ends (The Remixes)

Britney Spears

Femme Fatale

Britney Spears

Hold It Against Me - The Remixes

Britney Spears

Britney - The Singles Collection (Deluxe Version) [Remastered]

Britney Spears

The Singles Collection

Britney Spears

Break the Ice - Single

Britney Spears

...Baby One More Time - Single

Britney Spears

If U Seek Amy - Remixes

Britney Spears

Circus (Remix) - EP

Britney Spears

B In the Mix - The Remixes (Deluxe Version)

Britney Spears

Britney & Kevin: Chaotic - EP

Britney Spears